Current Projects
We always have a lot going on in the CLaSS Lab!  Here are some of our projects for 2019:
Spelling and speech sound disorders (stay tuned for recruitment info for children in first, second, and third grades!)
Spelling and Speech Production Coding Scheme (SSpeaCS) – is the "speaks" acronym a bit of a stretch?  Perhaps.  But we're excited for this project in which we are developing a coding scheme to examine the influence of speech sound production errors on spelling skills.  This project is funded through a research grant from the College of Communication and Information and is in collaboration with Dr. Nicole Patton Terry in the College of Education at FSU.
IEPs for children with Traumatic Brain Injury (TBI) – in this project we're examining the details of IEP goals written for children with TBI with an eye towards quality standards.  We hope this work ultimately helps to improve service delivery for children with TBI
 Lexical features of articulation tests – in this project, we're partnering with our departmental colleague, Dr. Toby Macrae, to do a deep dive into the words that are used in commercially available articulation tests.
Check out our published projects!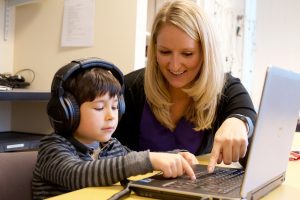 Are you interested in participating in one of these studies or in working in the lab?  Email classlab@cci.fsu.edu for more information!  FSU undergraduate and graduate students can also check here to learn more.